Laser Therapy
It's never too early or late to pursue a healthy and pain free quality of life!
What is Cold Laser Therapy?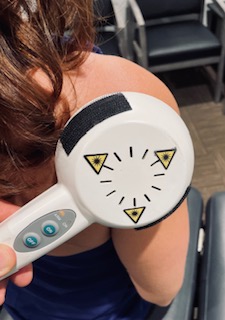 Cold Laser therapy is an effective modality to treat new injuries, those that have not healed well, and  even injuries that have become chronic. We commonly use it on both joint issues like arthritis and soft tissue injuries like tendonitis, bursitis and muscle tears.
The TheraLase cold laser system we use at Back to Health works by:
Decreasing pain and inflammation
Increasing blood flow (which increases blood oxygenation)
Increasing ATP Production (ATP is the body's energy molecule and
is used in the process to heal tissues)
What can I expect during a Cold Laser Therapy session?
During your cold laser therapy session, you typically shouldn't feel anything, however, some patients will report a feeling of warmth or  tingling – all of these possibilities are normal. There should be no discomfort or sensation of heat during your treatment – however, it is not uncommon to be a little more sore or achy later in the day after your first one or two treatments. This is also completely normal, and a sign that we have targeted the right tissues! Sometimes patients feel immediate relief, but generally it takes several treatments (4-6) to begin to feel the healing effects of a Laser Therapy program. Complete healing and recovery can take 12 visits or more. Of Course, much depends on the type, severity and duration of your specific injury.
What are some of the benefits of Laser Therapy?
Rapid Cell Growth
Reduced Fibrous Tissue Formation
Stimulates Nerve Function
Faster Wound Healing
Anti-Inflammatory Action
Increased Metabolic Activity
Increased Vascular Activity
What conditions respond well to Cold Laser Therapy?
Rotator Cuff Tears
Headaches
Sciatica Pain Treatment
Bursitis
Herniated Disc
Whiplash/Concussion
Nerve Pain
Tendinitis
Sprains/Strains
Repetitive Strain Injuries
Chondromalacia Patellae
Plantar Fasciitis
Arthritis
Fractures
Muscle Soreness/Pain
Back and Neck Pain
Carpal Tunnel Syndrome
Tennis/Golfer's Elbow
Bell's Palsy
Jaw Pain/TMJ
Herpes (shingles)
My family has seen Dr Heather for several years now. She is very knowledgeable, professional and personable. My kids and I have found great relief with our chiropractor visits with her. I definitely recommend Dr Heather as a chiropractor and the clinic itself. Chiropractic has become part of our holistic health routine which has brought us improved wellness.
This is has been the first time I have ever used Chiropractic services and I must say that Dr. Heather at Back to Health has been truly exceptional in assisting me with my back issues and sciatic. She's been so supportive and helpful since this past half year that it has stopped from going insane with the prior pain I had. Thoughtful support and exercises have helped me a great deal. I would recommend her to anyone. And having Alicen as part of Dr. Heather's team makes things run so smoothly even when I have to change appointments and she's so cordial and professional. Awesome!! Many Thanks!
I consider myself fortunate to have Dr's Heather & Jason who both "have my back". Both have helped me a great deal over the years. Many health professionals can effectively assess & treat our conditions. However, there are few Chiropractors able to explain our specific condition and more importantly, provide patients with valuable "homework" to increase our health, and Dr Heather truly shines in that regard. I would be remiss if I didn't also compliment Alison (Reception/Admin) who is an absolute delight to deal with!
Excellent care! I have been visiting the clinic for 10+ years and will continue for many more. I am always impressed with the wealth and depth of knowledge that Dr. Heather shares with me and my family. She takes great care of me and keeps my back happy.
Back to Health Chiropractic is simply outstanding. From the friendly, helpful and patient receptionist to the amazing chiropractors. They are leaders in the field, and always learning and studying more. They listen to your concerns and treat you appropriately. I always feel better after being treated.