Concussion Screening
It's never too early or late to pursue a healthy and pain free quality of life!
What is a Concussion?
A concussion (or traumatic brain injury) is a disruption in neurological (brain) function following a blow to the head, a sudden acceleration/deceleration event, sudden rotational force of the head and neck or even from an explosion. This causes a change in brain function due to chemical imbalances within the brain cells, decreased blood flow and temporary energy deficits. In addition, concussion sufferers nearly universally suffer some form of whiplash injury. Symptoms often include one or more of the following – headache, feeling "off", suffering balance issues or dizziness, neck pain, mood and sleep disturbances, and difficulty with concentration and memory.
The current recommended approach for concussions is the 4 "Rs":
Recognize that a concussion may have occurred.
Remove the sufferer from activities.
Remember to rest, rest, rest!
Take your time and rehabilitate based on your doctor's recommendations.
The first three R's should be all done immediately, until an assessment can be performed by a trained and knowledgeable health care professional, best done within 24-48 hours. Rehabilitation can begin as soon as an evaluation has been conducted.
While most concussions can wait 24-48 hours to be evaluated, some may be severe enough to require immediate medical attention. So called RED FLAG SYMPTOMS include worsening headache, weakness, numbness, loss of coordination, slurred speech, drowsiness, convulsions, seizures, inability to recognize people, loss of consciousness, repeated vomiting or any rapid worsening of these symptoms.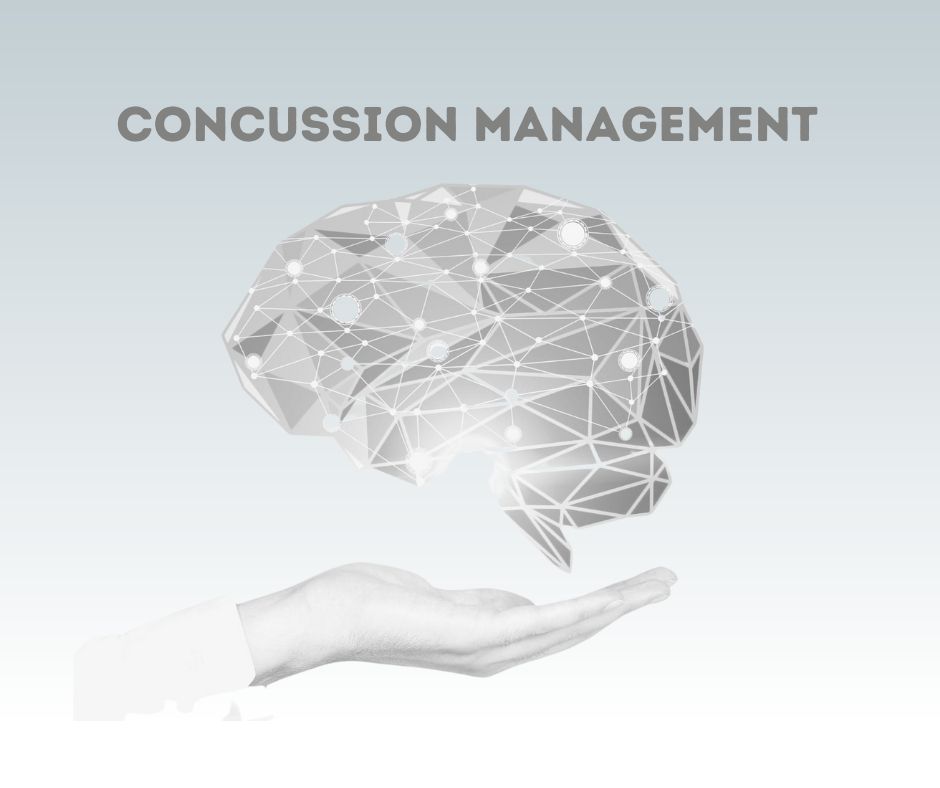 Both doctors at Back to Health has received post doctorate training in the evaluation and treatment of concussions.
Baseline Testing & Post-Concussion Evaluation
Baseline testing and concussion evaluation look very much the same. Your trusted health care professional will take a history and perform tests that include the evaluation of range of motion, coordination, memory, concentration, balance and visual movements among others. The advantage of baseline (or preseason) testing is it gives your provider a baseline of normal function for you, to compare to your post-concussion function. The results of your evaluation will help guide your recovery, both while in the office, and when at home.
Concussion Management
Concussion recovery is different for every sufferer – ranging from as quick as 1 week, to as long as 6 or more. Fortunately, most return to full activity within 2-3 weeks. While previous care included a prolonged period of rest, current international consensus states that recovery is best done slowly and gradually, with patients after 24-48hrs encouraged to increase activity, as long as they do not increase symptoms. A step-by-step protocol will be used by your provider, starting with return to school/work, followed by a return to full activity/sport. Office visits will include evaluation, treatment and recommendations for home care exercises. The biggest factor to recovery is not the severity of the concussion, but rather how soon after your concussion do you begin care.
My family has seen Dr Heather for several years now. She is very knowledgeable, professional and personable. My kids and I have found great relief with our chiropractor visits with her. I definitely recommend Dr Heather as a chiropractor and the clinic itself. Chiropractic has become part of our holistic health routine which has brought us improved wellness.
This is has been the first time I have ever used Chiropractic services and I must say that Dr. Heather at Back to Health has been truly exceptional in assisting me with my back issues and sciatic. She's been so supportive and helpful since this past half year that it has stopped from going insane with the prior pain I had. Thoughtful support and exercises have helped me a great deal. I would recommend her to anyone. And having Alicen as part of Dr. Heather's team makes things run so smoothly even when I have to change appointments and she's so cordial and professional. Awesome!! Many Thanks!
I consider myself fortunate to have Dr's Heather & Jason who both "have my back". Both have helped me a great deal over the years. Many health professionals can effectively assess & treat our conditions. However, there are few Chiropractors able to explain our specific condition and more importantly, provide patients with valuable "homework" to increase our health, and Dr Heather truly shines in that regard. I would be remiss if I didn't also compliment Alison (Reception/Admin) who is an absolute delight to deal with!
Excellent care! I have been visiting the clinic for 10+ years and will continue for many more. I am always impressed with the wealth and depth of knowledge that Dr. Heather shares with me and my family. She takes great care of me and keeps my back happy.
Back to Health Chiropractic is simply outstanding. From the friendly, helpful and patient receptionist to the amazing chiropractors. They are leaders in the field, and always learning and studying more. They listen to your concerns and treat you appropriately. I always feel better after being treated.